Students
·
Skanderborg - Denmark
Intern Web Developer
Do you want that all-important work experience as a web developer before you finish your studies? And do you want to learn from experienced developers and be co-responsible for developing our product?
As an intern at team.blue you will become a part of one of Denmark's leading and most innovative software companies. We deliver hosting and IT solutions such as webshops for more than 250.000 customers in brands like DanDomain and ScanNet. 

The e-commerce development team  
We have one of Denmark's leading webshop platforms HostedShop, which serves as the foundation for around 4000 webshops. Therefore, it is essential that we are always one step ahead and can offer the very best products to our clients. 
You will become part of a young and dynamic team and work with experienced developers. To ensure that you get the best start possible, we will immediately include you in our buddy program. You can read more about the development team here.  
The Stack 
At team.blue we love using the latest and most remarkable technologies available in modern web development. It is important to us that our products are state-of-the-art in all aspects, and this includes keeping the code relevant and up to date.  
There are many approaches and frameworks to navigate in today's industry, and different teams often come to different conclusions. As an intern at team.blue you will primarily be working with these technologies:   
JavaScript 
PHP / Smarty 
HTML 
CSS 
Any experience with modern web development is good, and if you already have experience with the above technologies, that is a big plus. 
Current Project 
We are currently working on a new vision for our webshops. The project is mission-critical because we must be able to give our customers a great experience. This involves all aspects of modern e-commerce. Because the competition is fierce, we need to provide webshops with state-of-the-art performance, SEO, user experience, which in the end increases sales.  
We expect you to be a part of this incredible journey where we bring our webshops into a new era. 
We offer 
An optimized environment for learning and practicing the art of web development, where you will have time to properly explore and understand the whole development process but also get a lot of hands-on experience with code architecture and design.  
Breakfast and lunch are included in the offer and you will be invited to participate in all social events.   
Practicalities  
We expect that the internship period is a part of your education. Additionally, it is an advantage if you are studying computer science or a similar field of study. 
Duration and start date: Approximately 4 months, but we are flexible both ways. We are flexible regarding the start date, we prefer to start in January/February 2024. 
Working hours: Approximately 37 hours a week between 8-16. If you already have a student job, we can be flexible with your working hours. 
 
Workplace: Højvangen 4, Skanderborg. The bus stops right outside our doors.   
Questions and application  
Do you wish to apply for the internship, please use the apply button! Whether you apply in English or Danish is entirely up to you. 
Do you have any questions about the internship, you are welcome to contact Christian Leth at christian.leth@team.blue.  
We hold regular interviews, so please send your application and other relevant material (e.g. GitHub) to us as quickly as possible.  

We would like to make it clear that this internship opportunity we are offering is unpaid.
Afdeling

Students

Rolle

Intern

Placeringer

Ansættelsestype

Praktik

Seniority

Internship

Brands

team.blue Denmark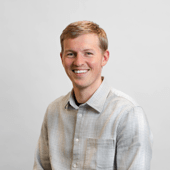 Kontakt
Christian Leth
People & Culture Recruitment Coordinator – People & Culture
Vores brands
team.blue Denmark består af 4 brands:

DanDomain, Simply.com, ScanNet og Curanet.

Om team.blue Denmark
Med mere end 250.000 kunder er team.blue Denmark én af Danmarks førende leverandører af hosting til små- og mellemstore virksomheder. team.blue Denmark består af en række succesfulde brands, der henvender sig til hver sin målgruppe på det danske hostingmarked. team.blue Denmark beskæftiger ca. 200 højt specialiserede medarbejdere på kontorer i Skanderborg og København. Vi er den danske del af gruppen team.blue, som er en europæisk tech-gigant med 26 kontorer og over 2000 medarbejdere rundt omkring i Europa.
Students
·
Skanderborg - Denmark
Intern Web Developer
Do you want that all-important work experience as a web developer before you finish your studies? And do you want to learn from experienced developers and be co-responsible for developing our product?
Indlæser ansøgningsskema